Merlino is pleased to stock Ammex Nitrile Gloves in blue and black. Please call the office at 206-723-4700 or email for pricing.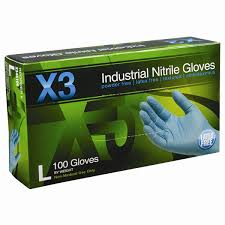 Nitrile gloves have increased in popularity over the past few years as a high quality replacement for latex gloves, especially with the ever-increasing rise of latex allergies. Ammex gloves made of heavy-duty nitrile with 8mm thickness offer excellent resistance to many of the commonly used chemicals. Other features include strength, durability, form, fit, comfort, elasticity and barrier protection.
POWDERED Vs. POWDER FREE
The purpose of powder in gloves is to make them easier to put on, extend shelf life and keep the gloves from sticking together during the manufacturing process. Most often, cornstarch is used as the donning powder. As latex, vinyl and nitrile gloves are manufactured, powder is sprayed onto the glove. Powder free gloves are more expensive, since additional costly manufacturing procedures are necessary, in order to make the gloves easier to don without powder and prevent sticking both during and after production. Choose the glove that fits you best, we offer both powdered and powder-free versions of Ammex nitrile gloves.