Sweetened Beverage Tax (SBT)
|
As you know, on June 5, the Seattle City Council passed a 1.75 cents-per-ounce tax on sweetened beverages that contain 40 or more calories per 12-ounce serving. The sweetened beverage tax (SBT) is scheduled to take effect on January 1, 2018.
SBT Exemption
The tax applies to any beverage that lists as an ingredient any sugar-sweetened beverage product, including bottle-can products and the syrup used to make the fountain versions of those products. In order to be taxable, the finished beverage product must contain 40 calories or more per 12 ounces. For fountain syrup (bag in box "BIB"), tax is imposed on the largest volume in fluid ounces of taxable beverages that could be produced from the syrup based on manufacturer's instructions.
---
The following products are exempted from the tax:
⊗ Any beverage that contains fewer than 40 calories per 12-ounce serving
⊗ 100% fruit and vegetable drinks
⊗ "Milk products" as defined in the Seattle Ordinance
⊗ Unsweetened drinks, including unsweetened drinks to which a purchaser can add, or can request that a seller add, sugar, at the point of sale
We will begin charging the tax to customers in Seattle (as well as "will call orders") on January 2, 2018.
Examples of the tax (not inclusive listing) are as follow:
⊗24/12 oz cans (Coca-Cola products, San Pellegrino Sodas, etc.)                     $5.04 per case
⊗5 gallon BIB syrup                                                                                                 $64.40 per case
⊗2.5 gallon BIB syrup                                                                                              $32.20 per case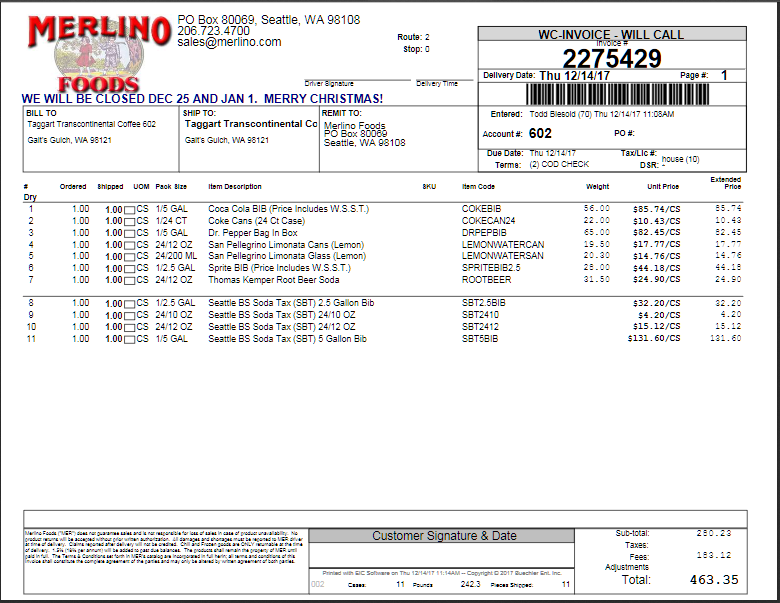 Our invoices will reflect the charge on separate line items which will appear grouped at the bottom of the invoice.
See the example invoice for reference.